WHAT DOES A PROSOCIAL PROCESS TRAINING LOOK LIKE:
TRAINING
A ProSocial Process is a 2-day event based on the following tools:

ProSocial is based in evolutionary and behavioral science as well as in economics. It fosters the evolution of groups. It is also grounded in the Core Design Principles (CDPs) developed by Nobel-Prize winner, the late Dr. Elinor Ostrom, of the University of Indiana. She identified eight principles a group must have in order to function at its highest potential. The ProSocial Process uses the ProSocial Matrix to develop an understanding of these principles within the group and to assist the group in effectively moving toward their shared purpose.

The ProSocial Matrix represents the science and art of building both psychological flexibility and psychological safety at the same time within the group. The Matrix quickly lets any group identify what's important to them, what's the yucky stuff that shows up inside of them, gets them hooked (like fear, rejection, ego, etc.) and in the way of what's important to them, what they actions they take move away from the yucky stuff (e.g., leaving a meeting, not focusing on tasks, back-biting, etc.), and pin-point what are those actions they could be doing in the immediate to move toward what's important to the group, even with all the yucky stuff still hanging out inside. The first round of the Matrix already leads to psychological flexibility and safety within the group.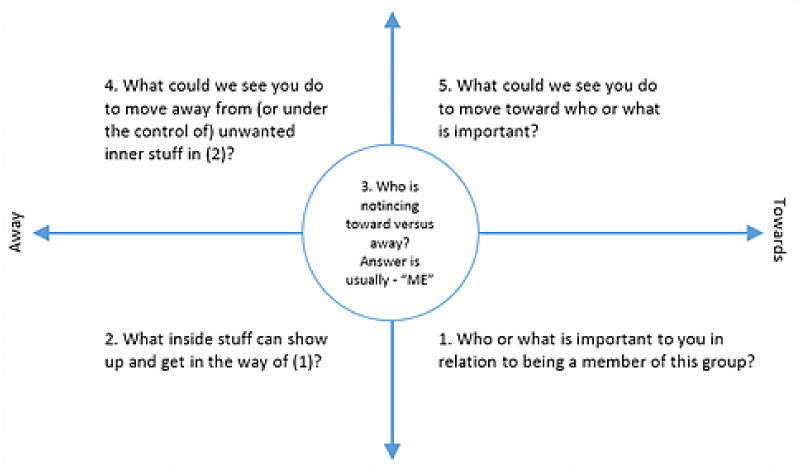 The second part of the ProSocial Process training introduces the Core Design Principles to the group and supports the group in making the CDPs relevant to group's own culture and needs. We work through them one by one, using the Matrix as the instrument to quickly get to the core of each principles. The group is able to adapt each principle to its own culture and core needs. Once the eight CDPs have been explored, adapted, and adopted, the group moves on to the design of its Auxiliary Design Principles (ADPs), which originate with the group and lead to a stronger framework for collaboration and cooperation.

Once the training is complete, group members continue to work with the ProSocial Matrix on a daily-basis using it for planning and strategy building. Coaching support is offered for the group or for individual group members as needed.

So, if you want:
Effective and empowering leadership
Well management practices leading to well staff
Positive, mindful workplace partnerships
Strong, vibrant, engaged, and resilient teams